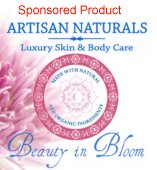 Find organic beauty, bath and body products like organic scrubs, natural body wash, natural shower gel, natural deodorant, organic body butter, organic fragrance, organic serum, organic lotion and other natural body care products in our green resources guide.
Business name
city, state
Headline
Body and beauty products
The Joys of Life
Oakland, CA
-
,quality skin care, handcrafted with fine, unrefined organic shea butters and fine organic oils
Yum Scrub Organics
Littleton, CO
-
All Organic Face and Body Products. Organic serums, organic scrubs, organic skincare systems
Soy of Life
Plymouth, MA
-
A Premium Natural/Organic Skincare line featuring Vitamin-E Rich Soy (non-GMO)
WeDoOrganic.com
Issaquah, WA
-
Selection of Certified Organic skin, body & hair care, organic vitamins and herbal remedies.
Heaven and Earth Soap
Corralitos, CA
-
Artisan soap and body products handcrafted from the finest natural ingredients found on earth
Arganavita Inc
sausalito, CA
-
100% certified organic Moroccan Argan oil for skin, hair, and nails
Ozuna Essence Of Life
Fremont, CA
-
Anti-Aging Skin Care Oxygenated Organic Olive Oil Face & Body Rejuvenating Gel
GratefulBody
Berkeley, CA
-
Natural skin care pure enough to deliver you a beautiful complexion, naturally
Rose of Sharon Acres
Maud, TX
-
Soap for Teeth, Olive Oil Goat Milk Soaps - Nature's Best Kept Beauty Secret
beauty naturally, inc.
Burlingame, CA
-
botanical, anti-aging natural body care products. organic serums, cremes, lotions,
Opas Soap
Hollywood, CA
-
Vintage Inspired Natural Health and Body Products.
Au Naturel Botanicals
Portland, OR
-
100% natural skin care featuring therapeutic-grade essential oils and organic herbal extracts.
organics4you
Bern, Switzerland
-
Miessence has the first organic skincare, bodycare, cosmetics and haircare products.
Dropwise Essentials
San Francisco, CA
-
Green business specializing in aromatherapy & natural personal care solutions for stress & wellness
Wildflower Soaps
Weatherford, TX
-
Wildflower Soaps - all natural Soaps; also Bath & Body products you will love. Affordable Prices!
Jenulence
New York, NY
-
Jenulence offers synthetic-free mineral makeup, natural skincare and beard care products.
Songline Emu Farm
Gill, MA
-
Pure Emu Oil contains natural anti-inflammatory and analgesic properties. Heals wounds reduces scars
GEN botanicals
Datil, NM
-
GENbotanicals - Natural Body Care Organic, Skincare, Organic Natural oils (Datil, NM)
Lily Organics, Inc.
Henderson, CO
-
U.S.D.A. certified organic grower/skin care company. Organic lotion, cleansers, toners, masks
Solay Wellness Inc
skokie, IL
-
Solay Lifestyle Products | Organic Cotton Clothing | Organic Bath & Body | Organic Baby
Botanial Skin Works
Baltimore, MD
-
Natural Hair Care and Organic Body Care for the entire family
Golden Path Alchemy LLC
Los Angeles, CA
-
Pure Fresh Handmade Natural Skincare with Chinese & western botanical, flower essences/gem elixers
Keys Care
Linthicum Heights, MD
-
Chemical-Free Natural Skin Care, Skin Health and Beauty Products
CarenOnline.com
Overland Park, KS
-
Shop the best brands for all-natural, chemical-free skin care, sunscreen and bath & body products.
Max Green Alchemy Limited
San Francisco, CA
-
Are you feeding your skin junkfood? Use our skin & hair care from essential oils & plant nutrients!
Wear it Naturally
Woodland, CA
-
Hemp Hair and Skin Care products, Hemp Twine for Crafts and Gardens, Hemp Clothing and Accessories.
Fields of Ambrosia
North Conway, NH
-
Handcrafted Plant-based Natural Bath & Body Care (North Conway, NH)
Unearth Malee
Claremont, CA
-
Organic Asian Inspired Natural Skin Care, Handmade, Vegan Soaps
InspiredLiving.com
Dundee, OR
-
Miessence Organic Skin Care, Body Care, Hair Care, Cosmetics & Abbey St. Clare Anti-aging Skin Care
Natural Bliss
Hampton, GA
-
Natural skin care, natural hair care products made with out synthetics, just mother earth & love!
Earthlover Shopping
Moultrie, GA
-
Shopping for Organic, Natural, Recycled, Renewable, and Hand Made- Fair Trade Focused
Plantlife Natural Body Care
San Clemente, CA
-
Plantlife Natural Care Products - Aromatherapy Soap, Essential Oil, Bath Salt, Massage Oil and more
High Sierra Botanicals
Truckee, CA
-
Exceptional natural products-skin care, aromatherapy, wrinkle & scar treatment, balms, best bug spra
Hemp Fair LLC
North Bergen, NJ
-
Hemp and Organic Cotton Clothing, Hemp Products & Other Natural Fiber Products
JES Organics, LLC
Boise, ID
-
Complete Line of Natural Organic Personal Care Products: Skincare, Aromatherapy, Bath/Body, Pet
The Soap Kitchen
Pasadena, CA
-
All Natural Handmade Olive Oil Soaps, Shampoo Bars, Lip balms, Bath Salts, Massage Oils
Be Green Bath and Body
North Easton, MA
-
Natural Skin care, bath and body products hand crafted in small batches without synthetic chemicals.
• Belly Buttons & Babies
Barrie, ON
-
Belly Buttons & Babies ~ Natural, Pure, Organic Body Care Products for Mom & Baby
• Garden of Eve Skin Care
North Garden, VA
-
Organic Skin Care ideal for sensitive skin, all skin types and safe for use during pregnancy.
• NYR Organic
Alexandria, VA
-
NYR Organic (direct sales of Neal's Yard Remedies in the Washington DC area)
• Dancing Dingo™
Austin, TX
-
Natural Skin Care, Bath & Body for the Whole Family. From Dingo Baby™ to Dog De-funkifier
• Victorie Inc.
Port Angeles, WA
-
Aromatherapy Essential Oils, Anointing Oils, Natural Healing Products
• Solum&Herbe
Port Townsend, WA
-
Organic Face & Body Care Infused with Flower & Gem Essences
• Herbs of Grace, Inc.
Mossyrock, WA
-
All Natural Mineral Makeup. Hancrafted eye shadow, blush & more. Green wholesale discounts.
• Tammy Ludwig
Hawthorne, NJ
-
Sustainable Organic Products for the Body and the Home and an Ethical Business Opportunity
• Great Things, Inc.
Otisfield, ME
-
Organic Hand Made Skin Care for Face, Body, Pets, Infants and Bug Patrol
• Organic4Nature
Toronto, ON
-
All Natural Body and Skin Care Products. Natural Lip Balm, Bar Soap, Shea Butter Lotion
• Naprodis Inc
Poway, CA
-
Naprodis is specialised in manufacturing natural cosmetic products and natural remedies.
• Wild Orchid Baby
Worcester, MA
-
Organic living made simple for you and your baby.
• Beauty Without Cruelty
Twin Lakes Wisconsin, WI
-
Organic & Natural Hair Care, Natural Skin, and Body Care - Full Color Cosmetics Range
• Naticura Inc.
Toronto, ON
-
Alleviate ~ Natural Hemorrhoid Relief
• Jamaican Black Castor Oil
Memphis, TN
-
Natural hair care, natural skin care with black castor oil. Good for skin and muscle pain, too!
• Larner Creations
Monroe, MI
-
Larner Creations All-Natural & Organic Bath & Body Products
• Scenter of the Mind
Rolling Meadows, IL
-
Your body will appreciate the purity, your Spirit will rejoice in the honesty.
• Koru Naturals
Hillsborough, NC
-
Natural Health and Beauty products from Australia and New Zealand
• Sea Chi Organics
Palm Springs, CA
-
Kombucha Based SkinCare and Hair Products. Face & body wash, natural lotions, body oils
• Merrimack Valley Essentials
Salisbury, MA
-
Handmade Soaps & All Natural Body Products: Cleansers, serums, masks, body butters. Green gifts!
• Tawna Hill Baby
Vancouver, BC
-
Simple. Safe. Luxury - All Natural Baby Skin Care - What are you putting on your children?
• Terra Dolce
Newberry, FL
-
Terra Dolce - Natural Bath, Body, and Personal Care Products
• Bon Bon's Creations
El Paso, TX
-
Becoming Healthy while Helping our Planet one step at a time w/ Renewable Resources & Ionic Products
• Scoop of Sunshine
Purgitsville, WV
-
Organic, all natural, recycled cyber-mall of all things good!
• DeadSeaHerbs
Skokie, IL
-
Organic herbal product for facial care and skin disorders
• Herbal Choice Mari
San Antonio, TX
-
100% Pure & Natural Skin Care & Hair & Body Care with Organic Ingredients.Vegan & Cruelty Free.
---
---
---