GreenPeople Seal of Approval


What GreenPeople Seal of Approval Means for Consumers?
"Green" consumers want products that are truly sustainable, holistic, and eco-friendly. Green businesses want to reach consumers interested in lifestyles of health and sustainability. But how do eco-friendly consumers and sustainable businesses find the products they need?
Since 1998, the GreenPeople Directory has helped consumers and green businesses connect. Our goal is to guide people through a crowded marketplace to find green, eco-friendly and healthy products and services. We help consumers, investors and businesses to harness their economic power to promote environmental sustainability.
All products and services in our directory have undergone a Green Assessment, and have been checked against stringent eco-criteria. We examine ingredients, supply sources, organic or other certifications, and the effect the product or service has on consumers and the environment.
If products or services submitted to GreenPeople meet the
criteria
,* that business becomes eligible for inclusion in our directory. We award that business our "Green People Seal of Approval," and display it in their directory listing. We also encourage the business to display it on their site, conveying to the public that their products are indeed natural, organic, green, eco-friendly, and healthy.
Our "Green People Seal of Approval" verifies that products and services meet a set of meaningful and consistent standards for environmental protection. It verifies that those businesses have successfully passed our Green Assessment process, and....
Promote positive lifestyles that are greener, healthier and more eco friendly through the products and services they offer,
Promote environmental sustainability through not only their products and services, but in their day to day operations, by
Sourcing, manufacturing and marketing their products and running their operations in an environmentally sustainable fashion, and
Taking workers, customers, and communities, as well as the environment into account when making decisions.
We are proud to support our member businesses! Please contact members of our directory with confidence that their goods and services are green, eco friendly, healthy and sustainable.
Why the GreenPeople Seal of Approval is Important for Businesses and Merchants
Consumers can purchase your products or services with confidence that they are truly green, holistic, eco-friendly, and sustainable if you display a GreenPeople Seal of Approval on your website and/or on your GreenPeople listing. If your business:
manufactures, distributes, wholesales or retails green products or services,
and you would like your products/services to undergo a Green Assessment,
and to receive a GreenPeople Seal of Approval so that potential customers can purchase your products and services with confidence in their quality and value,
If your business has already been evaluated and approved, you may display the GreenPeople Seal of Approval on your website. Please choose an option from the images below.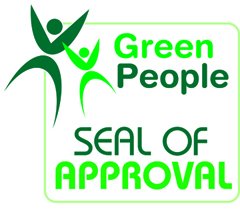 html code


html code


html code
We appreciate your interest in the GreenPeople Directory of green goods and services! Together, we are working to grow a greener and more compassionate world. We're proud of what we've been able to do and we cannot do it without you!
Please feel free to recommend any business deserving the GreenPeople Seal of Approval to us at Ask @ GreenPeople . org
The GreenPeople Team
300 Georgia St., Suite #1, Hollywood, FL 33019
(401) eco-biz4 (326-2494)
Copyright 1998-2013

(*Disclaimer: The conclusions we reach in our Green Assessment process are based on information relayed to us by merchants and businesses. We rely on their transparency. Our conclusions may change as new information becomes available. GreenPeople retains the right to revoke the GreenPeople Seal of Approval should we discover reported information was inaccurate.)